As part of Museums+Tech 2016 we had a number of people volunteer to assist us with running the event and helping to make it the success that it was. One of these volunteers, Rosie Kliskey, shares her experience with us:
This year was my first time visiting the Museums+Tech conference. A colleague passed on the details thinking it may be something I'd be interested in and boy was she right! I'm so glad that I made the trip all the way up from Penzance, Cornwall to experience this wonderful event. The number of new ideas and projects was inspiring and refreshing. It really gave me a motivational push to really think how a small museum like the one I work for, Helston Museum, could benefit from using creative technology ideas like those discussed over the day. I found all of the talks interesting, with subjects ranging from curiosity to photogrammetry, everything from the idea to the execution was discussed. These ideas particularly enthused me because I could see how even with a limited budget amazing things could be achieved.
Overall I found the whole day to be friendly and inviting especially as I attended the event only having previously met one other person who attended and met some great new people throughout the day. I have discussed the subjects and ideas shared at the conference with the rest of the staff at the museum (3 of us) and we have now decided that we should get a creative technology idea brewing to increase engagement with our collections and hopefully we can turn it into a successful project like the ones shared at the conference in the future!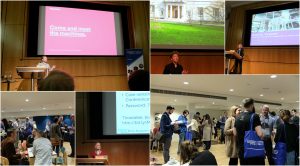 Rosie assisted with photographing the event and you can view her images along with others from the day on the Flickr page: https://www.flickr.com/groups/museumscomputergroup/. If you have any photos from Museums+Tech 2016 why not share them with the group?
For more on the events of Museums+Tech 2016 check out the recap.