We have an amazing line up of speaker for this year's conference. Find out more about who will be sharing their projects and learning with us on 19 October! You can pick up tickets for Museums+Tech 2018 via this link.
Matt Locke – Founder and Director, Storythings
Matt Locke is the founder and Director of Storythings, a digital content agency based in Brighton with clients including Bill & Melinda Gates Foundation, Omidyar Network, Pearson, and NESTA. Before starting Storythings in 2011, he worked in Digital Media for over two decades, including leading the Innovation team at BBC New Media from 2001-7. He moved to Channel 4 in 2007 to lead the Education team as they shifted from making TV to making online projects. At the end of his time at Channel 4 he led the Multiplatform team, working on shows like Big Brother, Misfits, Skins, Million Pound Drop, and preparations for the 2012 London Paralympics.
He is Chair of Photoworks, an agency that commissions photography and runs the Brighton Photo Biennale; Chair of The Audience Agency, Deputy Chair of the British Science Association; and on the Digital Advisory Board for the Science Museum Group.
Aron Ambrosiani – Digital Media Producer (The Nordic Museum) and Albin Larsson – Operations Developer (Swedish National Heritage Board)
Aron Ambrosiani is the digital media producer at Nordiska museet in Stockholm, Sweden. Between 2003 and 2014, he worked in various positions at the Nobel Museum, mainly with exhibitions and digital media. In 2011–2012, Aron undertook a temporary role as web project manager at the National Maritime Museums in Sweden. Image credit: Børre Høstland / Nasjonalmuseet, CC-BY 4.0
Albin Larsson works at the Swedish National Heritage Board with digital innovation through projects that span across institutional borders. A key principle within these projects are to support GLAM institutions thought open and public results as well as through open processes.
Charlotte Czyzyk – Project Manager, Lives of the First World War and Katie Childs – Head of Partnerships and Strategic Relations (both Imperial War Museums)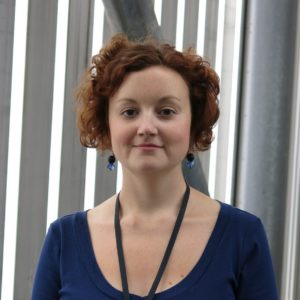 Charlotte Czyzyk is the Public Engagement and Project Manager for Lives of the First World War, Imperial War Museums' online platform to discover, remember and share stories of men and women who contributed to the British war effort in the First World War. Charlotte has worked at IWM since 2003, in a variety of roles. She has a degree in Politics and Modern History as well as an MA in Art Gallery and Museum Studies. In her spare time she is a freelance tour guide of First and Second World War sites in Europe.
Katie Childs is the Head of Partnerships at the Imperial War Museums, and, since April 2017 has directed the IWM's First World War Centenary Partnership. Before taking up her post at IWM, Katie led all activity relating to policy and projects for the National Museum Directors' Council for five years. She has previously led international programmes for the British Museum, and is a Trustee of Ely Museum and the Collections Trust.
Daria Cybulska – Head of Programmes (Wikimedia UK)
Daria Cybulska is Head of Programmes and Evaluation at Wikimedia UK, an open knowledge charity, where she's worked for the last 6 years. She manages programme planning and delivery, which includes setting up partnerships, running volunteer engagement projects, and evaluating Wikimedia UK's work. In the past she's focused on volunteer support and Diabetes UK, and has also been involved at the environmental charity Forum for the Future. Originally from Poland, she came to the UK to study Philosophy and settled in London. Some of Daria's open knowledge work with museums is outlined on Wikimedia UK. Image credit: René Zieger for Wikimedia Deutschland e.V. [CC BY-SA 4.0  (https://creativecommons.org/licenses/by-sa/4.0)], via Wikimedia Commons
Lizzy Bullock – Senior Digital Manager (Curatorial) (English Heritage)

Lizzy Bullock is Senior Digital Manager in the Curatorial Department of English Heritage. She has worked in the museums sector for over 6 years, having previously been a member of the digital team at the V&A. Lizzy recently worked on the major collaboration between English Heritage and Google Arts and Culture – Google's first partnership with a heritage organisation and their largest single-partner project to date.
Jennifer Wexler – Digital Research Project Producer (British Museum); Chiara Bonacchi – Lecturer in Heritage (University of Stirling) and Daniel Pett – Head of IT & Digital (Fitzwilliam Museum)
Jennifer Wexler is a heritage consultant and prehistoric archaeologist working on digital research projects and archaeological archives, currently as the Digital Research Project Producer & Prehistoric Research Assistant at the British Museum and an Honorary Research Associate at the Institute of Archaeology, University College London. As a heritage consultant, she has investigated archaeological archives at the Horniman Museum, British Museum, and American Museum of Natural History. Projects she has worked on include the African Rock Art Image Project, the MicroPasts Project, and Global Perspectives on British Archaeology. She received her PhD from the Institute of Archaeology, UCL, studying the development of prehistoric rock-cut tombs in western Sicily. Her research interests include Mediterranean and European prehistory, archaeological landscapes, mortuary archaeology, 'forgotten' histories of archaeology, archives and museums, and the application of digital innovation to cultural heritage data.
Daniel Pett is the Head of Digital and IT at the Fitzwilliam Museum, University of Cambridge. He read archaeology at UCL and Cambridge and then worked in IT on the trading floor of Dresdner Kleinwort Benson. Until February this year, he was Digital Humanities lead at the British Museum, where he designed and implemented digital practises connecting humanities research, museum practice, and the creative industries. He is an advocate of open access, open source and reproducible research. He designed and built the award-winning Portable Antiquities Scheme database (which holds records of over 1.3 million objects) and enabled collaboration through projects working on linked and open data (LOD) with the Institute for the Study of the Ancient World (New York University) (ISAWNYU) and the American Numismatic Society. Dan has worked with crowdsourcing and crowdfunding (MicroPasts), and developed the British Museum's 3D capture reputation. He holds Honorary posts at UCL Institute of Archaeology and the Centre for Digital Humanities and publishes regularly in the fields of museum studies, archaeology and digital humanities.
Chiara Bonacchi has joined the University of Stirling at the beginning of April 2018 as a Lecturer in Heritage. She was previously Research Co-Investigator at the UCL Institute of Archaeology, where she was co-leading the AHRC-funded project Ancient Identities in Modern Britain (ancientidentities.org). After a BA in Archaeology and an MA in Medieval Archaeology at the University of Florence, she completed a PhD from the UCL Institute of Archaeology. Her research focuses on the public perceptions, experiences and uses of the past in contemporary society, on digital methods for heritage research and public engagement, and on medieval archaeology. She is co-founder of the award-winning MicroPasts project for the crowdsourcing of open data in archaeology, history and heritage (micropasts.org), and of the Digital Heritage Data Initiative. Since 2008, Chiara has also been collaborating with Italian universities to establish Public Archaeology as a field of research and teaching in Italy, and advising arts and culture funding bodies and organisations, internationally.
Joanna Salter – Senior Manager, Participation (Royal Museums Greenwich)
Jon Pratty – PhD Candidate (University of Sussex)

Digital Producer and Curator Jon Pratty is currently a postgraduate student at the University of Sussex. Specialising in digital skills development programmes, education technology events and place-making activity, he has just finished six months working in an #edtech startup, MakerClub. Before that, from 2015 to 2017, Jon was Creative Network Programmer at Ideas Test, a creative technology and community arts space in north Kent. Whilst working at Arts Council England, in 2011 he was responsible for initiation and development of Brighton Digital Festival, and became founding Chair of the CIC that administrates the Festival in 2015. Jon spent two years in 2009 as manager of Disability Arts Online website, and before that was Editor of the 24 Hour Museum/Culture24 website from 2001 to 2008. Jon is a professional journalist and a Fellow of the Royal Society of the Arts, a contributor to the Distance Learning MA in Digital Heritage at the University of Leicester, and a long-time judge of the GLAMi Awards at Museums and the Web in the US.
Kate Noble – Education Officer and Ina Pruegel – Digital Engagement Specialist (both University of Cambridge Museums)
Kate Noble is Education Officer at The Fitzwilliam Museum, part of the University of Cambridge Museums. Kate oversees the schools programme which supports teachers and school groups make the most out of visits to the museum. She also leads a teacher training programme that encourages the development of creative teaching approaches using objects, images and digital resources.
Ina Pruegel is a Digital Engagement Consultant specialising in digital and physical crossover, games and storytelling to engage audiences while embedding digital skills and processes into organisations. She worked at Cambridge University Museums, leading the strategic development of the digital capacity to connect audiences with collections through technologies. Prior to this, Ina was Digital Project Manager at Historic Royal Palaces where she developed digital products, events and experiences which included 360° projections, a family app and digital guide.
Katherine Biggs – Lead Digital Project Manager and Navjot Mangat – Communities Interpretation and Research Advocate (both Royal Museums Greenwich)
Katherine Biggs oversees the design and delivery of all AV for the Museum's four new galleries, including interactives, digital displays and audio-visual engagement. Prior to this she worked across all six of Historic Royal Palaces' sites, specialising in engaging audiences with culture and heritage through digital technology. This included large-scale, interactive 360 degree experiences at family festivals, a MOOC on the FutureLearn platform and app-based digital missions for children. Katherine also co-managed the British Museum's Samsung Digital Discovery Centre and its digital learning programmes.
Navjot Mangat's work focuses on audience consultation and testing for the National Maritime Museum's four new galleries and acting as an advocate for under-represented audiences through research and collaborative projects. He was the Programme Coordinator for the Strengthening Our Common Life (SOCL) traineeship and is also a graduate of the programme.  He completed his traineeship at the National Army Museum as a Content Assistant where he delivered a series of co-curation projects and content for their Insight gallery.
Kati Price – Head of Digital Media and Publishing (Victoria and Albert Museum)
Kati Price heads up digital media and publishing at the Victoria and Albert Museum, managing a team that works in technology, design and content. She's responsible for the brand and user experience of the V&A's digital estate and oversees content commissioning and production across digital and print. Since graduating from the V&A/Royal College of Art history of design Masters programme, Kati has specialised in content and communications, with experience in brand, PR, marketing and digital media. With over 17 years in the design industry, she has worked with non-profits like the Design Council and design charity, the Sorrell Foundation to high-end retailers SCP and Vitsoe. Passionate about user-centred design, content and the digital realm, Kati has worked on award winning digital products and services, is a mentor and coach and regularly speaks at international conferences.
Lauren Bassam – Assistant Curator (V&A Dundee)
Michal Čudrnák – Head of Digital Collections and Services (Slovak National Gallery, Bratislava) and Jonathan Prior – Lecturer in Human Geography (School of Geography and Planning, Cardiff University)
Michal Čudrnák has been working at the Slovak National Gallery (SNG) for more than ten years, currently as the Head of the Digital Collections and Services Department. While working at SNG, he took an active part in transitioning the gallery into the digital realm –  from cataloguing, to digitisation (during the project "Digital gallery" he worked as the digital content supervisor), development of websites (leading the development of Web umenia – online catalogue of artworks – for more than 7 years) and apps. In the past, Michal has worked with several NGOs, producing events, discussions, workshops and radio projects dealing with new media, arts, digital technologies and activism.
Dr Jonathan Prior is a lecturer in human geography at Cardiff University. His research interests straddle environmental aesthetics, landscape policy, and sound studies. In particular, he is interested in the ways in which humans modify landscapes, particularly through environmental conservation and ecological restoration, and how these modifications intersect with different types of environmental and cultural values. Much of this work considers the role of sound in mediating landscape experience. He also works as a sound recordist, and has worked on a number of audio-related projects across Europe. His first book Between Nature and Culture: The Aesthetics of Modified Environments (co-authored with Emily Brady and Isis Brook) is due to be published by Rowman & Littlefield International in December 2018.
Owen Gower – Museum Manager (The Jenner Trust; Dr Jenner's House, Museum and Garden)
Owen is Museum Manager at Dr Jenner's House, Museum and Garden. With a background in collections management and visitor experience, Owen is now responsible for the operations of the museum and the interpretation of its collection. Since January 2017 he has sat on the Project Management Board of REVEAL, a European Commission Horizon 2020 funded project exploring the uses of virtual reality help cultural heritage sites engage with audiences world-wide.
Rebecca Kahn – Director of Collections (Pelagios Commons and Alexander von Humboldt Institute for Internet and Society, Berlin)
Rebecca Kahn is a researcher at the Alexander von Humboldt Institute for Internet and Society in Berlin, and the Director of Collections at the Pelagios project. In this capacity, she works with museum staff, librarians, data curators and other heritage professionals to find new ways of using Linked Open Data to build connections between digital resources, and expose heritage collections to broader audiences.
Rosie Cardiff – Senior Digital Producer (Serpentine Galleries)
Rosie currently work as the Senior Digital Producer at the Serpentine Galleries where she oversees the Serpentine's digital activity across a variety of platforms including websites, social media and mobile tours. Rosie is responsible for the ongoing development of the Serpentine website, including the recent launch of a new Online Shop. She also produces the Serpentine's Mobile Tours, offering visitors an interactive gallery experience on their smartphones, providing access to additional content, such as artist interviews and audio guides. Rosie manages a small digital content team and together they develop the social media strategy for the Serpentine, reaching new audiences and increasing engagement through multiple channels. Prior to the Serpentine, Rosie worked in various roles within the Digital Department at the Tate.
Sarah Younas – Digital Programmes Officer (Tyne & Wear Archives & Museums)

Sarah currently works as Digital Programmes Officer at Tyne & Wear Archives & Museums (TWAM), a major regional museum, art gallery and archives service managing a collection of nine museums and galleries across Tyneside and the Archives for Tyne & Wear. Sarah's role involves collaborating with staff and communities outside of the organisation who aren't traditional museum thinkers to innovate, challenge the perception of what museums are for and create richer interactions with growing and diverse audiences through developing exciting, bespoke, authentic museum experiences in physical and virtual spaces.
You can pick up tickets for Museums+Tech 2018 via this link.